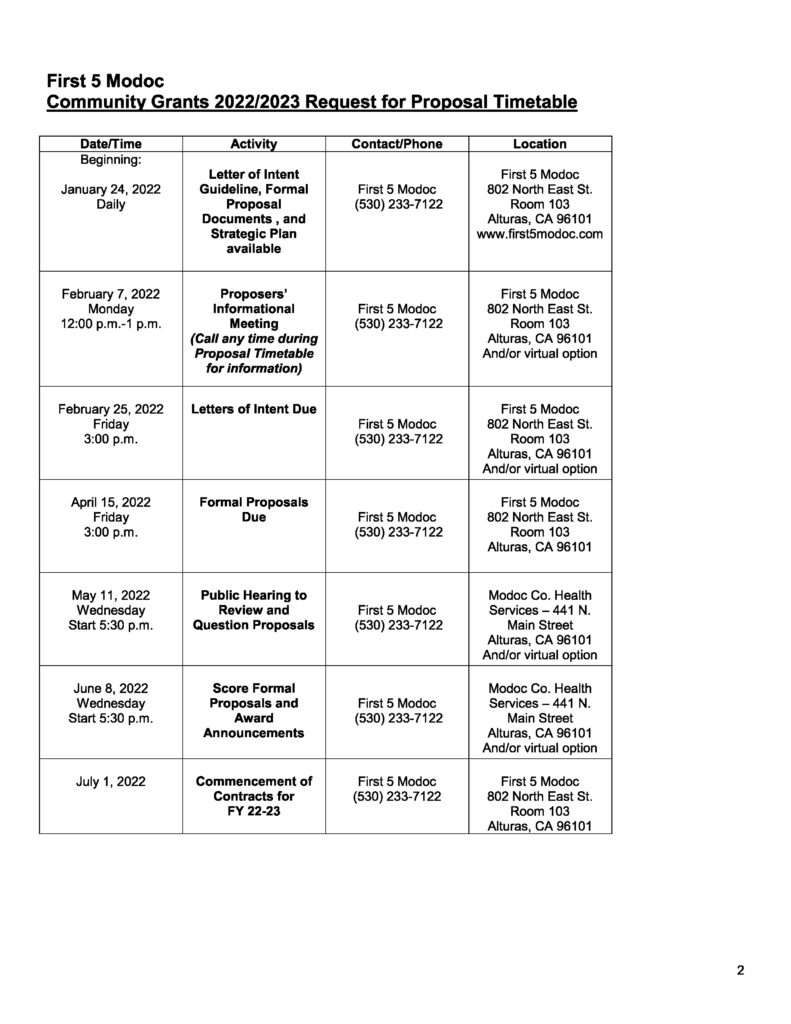 Applicants seeking to request funding from the Modoc County Children and Families Commission (First 5 Modoc) in the Fiscal Year 2022-23 competitive formal grant process must first submit a Letter of Intent (LOI). Letters are due to First 5 Modoc by FRIDAY, FEBRUARY 22, 2022.
PROPOSERS' INFORMATIONAL MEETING, scheduled for 2/7, was pre-recorded due to an increase in COVID-19. Watch below to learn more about our grant cycle process.
Request for Proposals (RFP) Formal Proposals are due to First 5 Modoc by FRIDAY, APRIL 15, 2022. The following items are guidelines, exhibits checklist, misc. grant policies, strategic plan/addendum, and timetable for the FY 2022-23 RFP Formal Grant Cycle.
Renewal Grant Process – Two months prior to the conclusion of a formal grant contract, an agency must submit a Renewal Grant Proposal.
Mini Grant (under $10,000) requests may be made throughout any fiscal year and are awarded as funding allows and/or comes available.
For questions about Community Grants and eligibility contact 530-233-7122 or email first5modoc@gmail.com